specifications
Brand :

Crossrock

Material:

Fiberglass

Fitted Instrument:

Cello

Package Dimensions:

142x53x35cm; 56x21x14in

Shipping Weight:

8.4kg(18.5lb)

Net Weight:

6.8kg(15lb)

Accessories:

Keys; backpack; Removable padding strips
Cello Cases
Fiberglass Cello Case – 4/4 Full Size Cello
$549.00
Fiberglass Cello Case 4/4 Full Size
If the product is out of stock, please leave your email here. We will reach out and update the expected delivery date. For the international orders outside of the US, please contact us to get further help.
Free shipping around US continental for orders above $49
1 - 2 business days handling time before shipping
30 days money-back guarantee and limited lifetime warranty
A Closer Look at the Fiberglass Cello Case – 4/4 Full Size Cello
WATCH THE VIDEO
Fiberglass Cello Case – 4/4 Full Size Cello
DETAILS
Materials – Fiberglass Shell

All the Crossrock made fiberglass cases use 3 important materials: The fiber cloth which is the essential material; The strength strips for the sidewall, back shell, and top shell; The reinforcement strip for the parts that need special attention.

Neck Strap & Head Belt – Fiberglass Cello Case

Adjustable neck strap with plastic easy buckle. The Head belt on the top secures the cello when it is withdrawn or put back into the standing case.

Molded Back Handle – Fiberglass Cello Case

The molded handle on the top back offers a stable and easy carrying experience when using the case with wheels.

Inside – Fiberglass Cello Case

Red velvet lining with thick foam padding. Half-suspension design. 2 removable padding strips for the body size adjustment.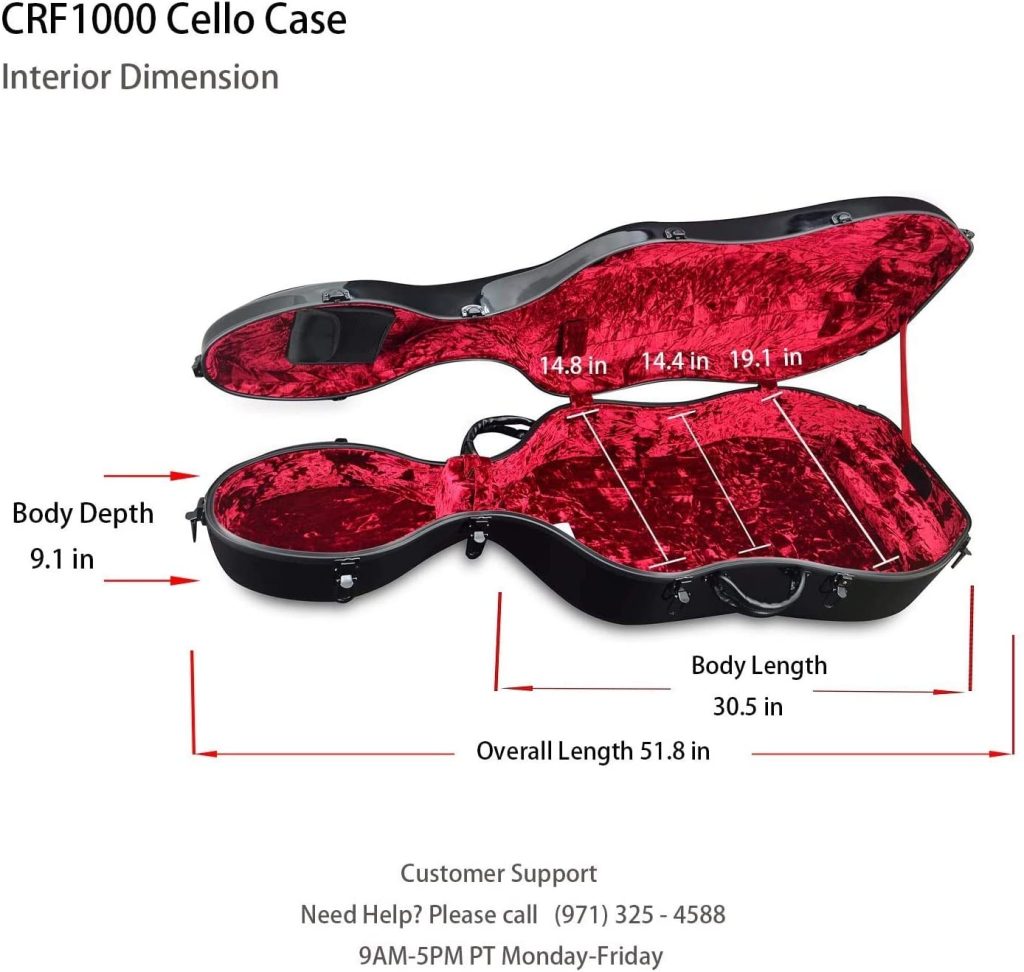 Fiberglass Cello Case – 4/4 Full Size Cello
PRODUCT OVERVIEW
Crossrock Fiberglass Cello Case Fiberglass cello case with wheels and backpack. Fits 4/4 full-size cello.
INSIDE MEASUREMENTS
Inside Dimensions
Overall Length(include endpin): 131.5 cm (51.8 in)
Body Length: 77.5 cm (30.5 in)
Upper Bout: 37.5 cm (14.8 in)
Lower Bout: 48.5 cm (19.1 in)
Waist: 36.5 cm (14.4 in)
Max Depth Include Bridge: 32.0 cm (12.6 in)
Body Depth: 23.0 cm (9.1 in)
Endpin: 6.0 cm (2.4 in)
FEATURES
Extremely strong fiberglass exterior with glossy printing surface.
Waterproof, flame-retardant and heat insulation.
Soft padding with velvet lining in semi-suspension design.
2 bow holders.
2 fasten straps for neck and head.
Crossrock designed sturdy leather handle.
Deluxe detachable backpack straps and reinforced lockable latches.
Multi-color options.