specifications
Brand :

Crossrock

Material:

Poly Carbonate Mixed Carbon Fiber

Fitted Instrument:

Cello

Package Dimensions:

143x36x56cm; 56x21x14in

Shipping Weight:

8.4kg(18.5lb)

Net Weight:

6.4kg(14lb)

Accessories:

backpack; Detachable padding x 4
Cello Cases
Deluxe Poly Carbonate Cello Case – 4/4 Full Size – Fat
$669.00
Deluxe Poly Carbon Cello Case 4/4 Full Size
If the product is out of stock, please leave your email here. We will reach out and update the expected delivery date. For the international orders outside of the US, please contact us to get further help.
Free shipping around US continental for orders above $49
1 - 2 business days handling time before shipping
30 days money-back guarantee and limited lifetime warranty
A Closer Look at the Deluxe Poly Carbonate Cello Case – 4/4 Full Size – Fat
WATCH THE VIDEO
Poly carbon cello case - deluxe and fat version
Deluxe Poly Carbonate Cello Case – 4/4 Full Size – Fat
DETAILS
Magic Pads System

The Magic Pads system offers more flexibility in adjusting the inside fitting for cellos with tiny different sizes. Your cello is fully floated in the case.

Neck Strap & Head Belt – PC Fat Cello Case

The convenient adjustable buckle comes with a piece of leather protector underneath to avoid scratching on the cello's neck. The Head belt secures the cello when it is withdrawn or put back into the standing case.

Password Lock – PC Cello Case Fat

An alloy password lock is installed to offer better security for your cello. Original combination 0-0-0. Push the bar and set the password.

Music-sheet Pouch – PC Cello Case Fat

Crossrock Molded music-sheet pouch on the back of the case. The EVA padded pouch can not only hold musician's books but also offers a comfortable backpack experience.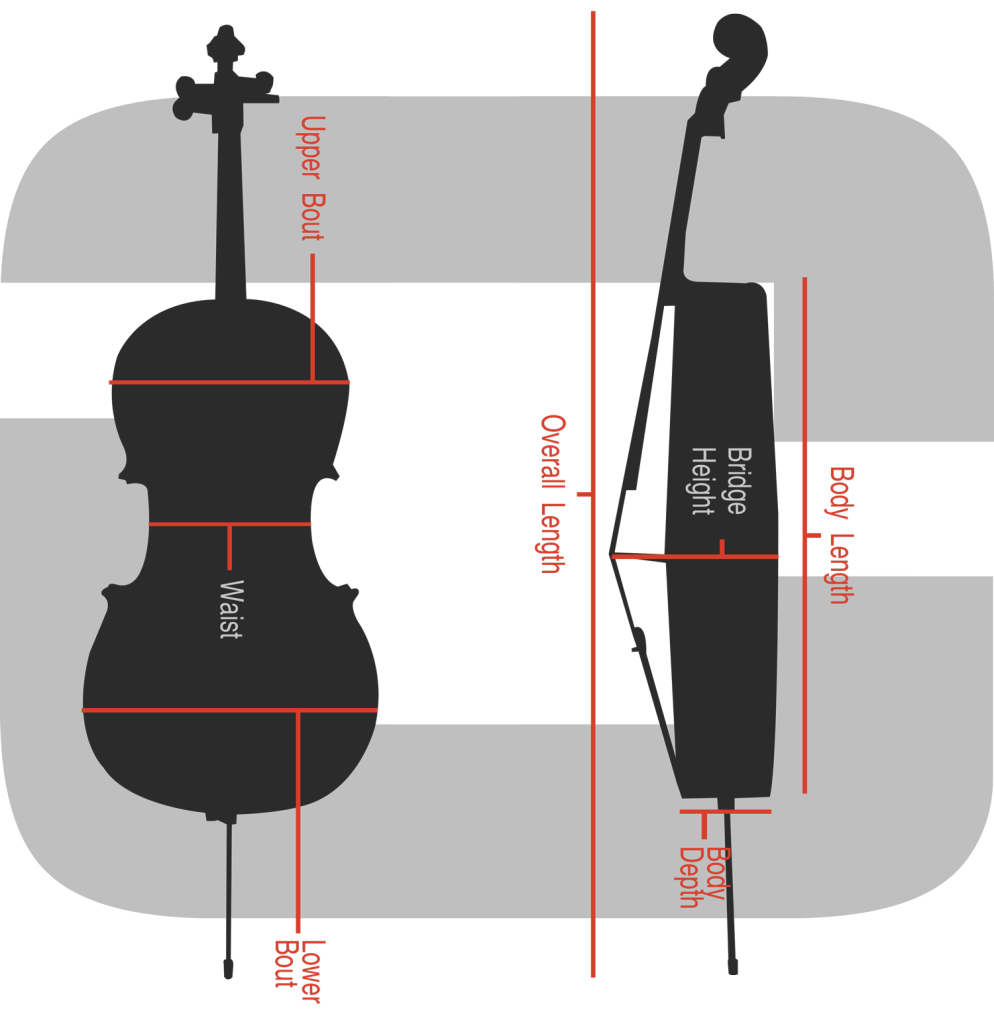 Deluxe Poly Carbonate Cello Case – 4/4 Full Size – Fat
PRODUCT OVERVIEW
Rose Gold does not come with the music-sheet pouch and password lock.
INSIDE MEASUREMENTS
Inside Dimensions
Overall length (include endpin): 135cm (53. 1");
Body length (do not include endpin): 75.5cm (29.7");
Upper bout: 38cm (15");
Waist: 37cm (14. 6");
Lower bout: 48cm (18. 9");
Body depth (include bridge): 28. 5cm (11. 2")
FEATURES
Super strong poly carbonate exterior. Mixed with carbon fiber. 11lb net weight. Stand up against 660lb pressure.
Durable and light spring latches. 2 soft pocket style bow holders and 2 grab handles
Anti-scratch surface with carbon wave pattern.
Suspension inside design with removable padding. Soft black velvet lining.
Padded backpack straps with safety buckles.