specifications
Brand :

Crossrock

Material:

Fiberglass

Fitted Instrument:

violins

Package Dimensions:

88x40x22cm; 35x16x9in

Shipping Weight:

5kg(11lb)

Net Weight:

3.5kg(7.7lb)

Accessories:

Keys; Backpack; Removable blanket
Orchestra Strings Cases
Fiberglass Case for 2 Violins, Double Violin Case 4/4 Full Size – TSA Version
$309.00
Double Violin Case, Deluxe Fiberglass
If the product is out of stock, please leave your email here. We will reach out and update the expected delivery date. For the international orders outside of the US, please contact us to get further help.
Free shipping around US continental for orders above $49
1 - 2 business days handling time before shipping
30 days money-back guarantee and limited lifetime warranty
Fiberglass Case for 2 Violins, Double Violin Case 4/4 Full Size – TSA Version
DETAILS
TSA Lock – Double Case Small

The double violin case comes with 2 alloy locks. One of them is a TSA lock.

Shoulder Rest – Double Case

Only one shoulder rest can be stored in the case. It can be fastenated on the place by the Velcro system.

Blanket – Double Case

We noticed the blanket might be slipped away when musicians are moving around with the case. The Velcro will help the blanket keep its way and offers better protection to the violins.

Red Lining & Hygrometer

The hygrometer installed with the case helps musicians monitor the humidity much easier. Super soft red lining offers superb protection to violins.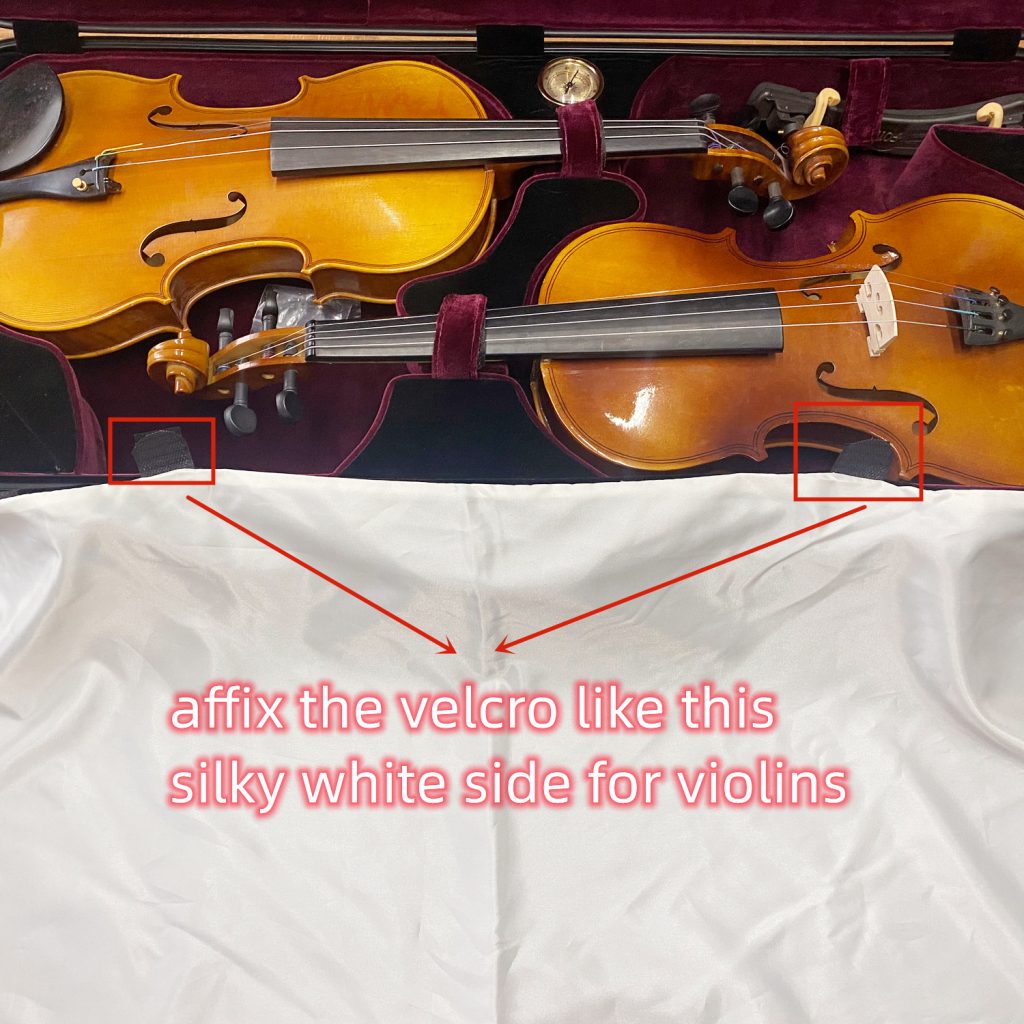 Fiberglass Case for 2 Violins, Double Violin Case 4/4 Full Size – TSA Version
PRODUCT OVERVIEW
Upgraded from the old CRF1000/CRF1020 series. The CRF2020 deluxe fiberglass double violin case is also made from 100% pure fiberglass. The material of the lining is much softer than the old model. The heavy-duty alloy locks make the experience of closing and opening the case much easier and safer.
INSIDE MEASUREMENTS
The Velcro of the blanket should be attached like in the picture. After attaching the Velcro well, turn the white side to cover the violins and leave the black side up forward.
Please make sure the bridge height (measured from the ground) of the violin on the right side is lower than 3.95" (10cm), or the second bow holder on the upper lid may hit the strings.
FEATURES
NOTIFICATION: We found the 2nd bow holder may hit the strings of some higher bridge violins or the electric violins. Therefore, please do not use the case for any violins that have a depth (at the bridge) of more than 3.95" (10cm).