specifications
Brand :

Crossrock

Material:

Fiberglass

Fitted Instrument:

Violin & Viola

Package Dimensions:

90x49x21cm (36x19.3x8.3in)

Shipping Weight:

6kg (13.25lb)

Net Weight:

5.3kg (11.7lb)

Accessories:

Keys; Backpack; Removable blanket
Orchestra Strings Cases
Double Case – for a 4/4 Violin and a Viola (15.5″ – 16.5″)
$409.00
If the product is out of stock, please leave your email here. We will reach out and update the expected delivery date. For the international orders outside of the US, please contact us to get further help.
Free shipping around US continental for orders above $49
1 - 2 business days handling time before shipping
30 days money-back guarantee and limited lifetime warranty
A Closer Look at the Double Case – for a 4/4 Violin and a Viola (15.5″ – 16.5″)
WATCH THE VIDEO
Crossrock Double VIOLIN / VIOLA Fiberglass Case - Instrument Protection with GREAT Design and TSA Lock.
Double Case – for a 4/4 Violin and a Viola (15.5″ – 16.5″)
DETAILS
Alloy TSA Lock – Double Case Large

The double case uses 2 heavy-duty alloy locks. One of them is a TSA lock.

Spring Latches – Double Case

Besides the 2 alloy locks, we install 4 spring latches around the case to offer double security when musicians walk out with the case.

Blanket – Double Case

We noticed the blanket might be slipped away when musicians are moving around with the case. The Velcro will help the blanket keep its way and offers better protection to the violins.

Shoulder Rest Velcro

2 velcros under the neck of the instruments are designed for shoulder rests. 2 small accessory compartments on the corners for rosins and extras.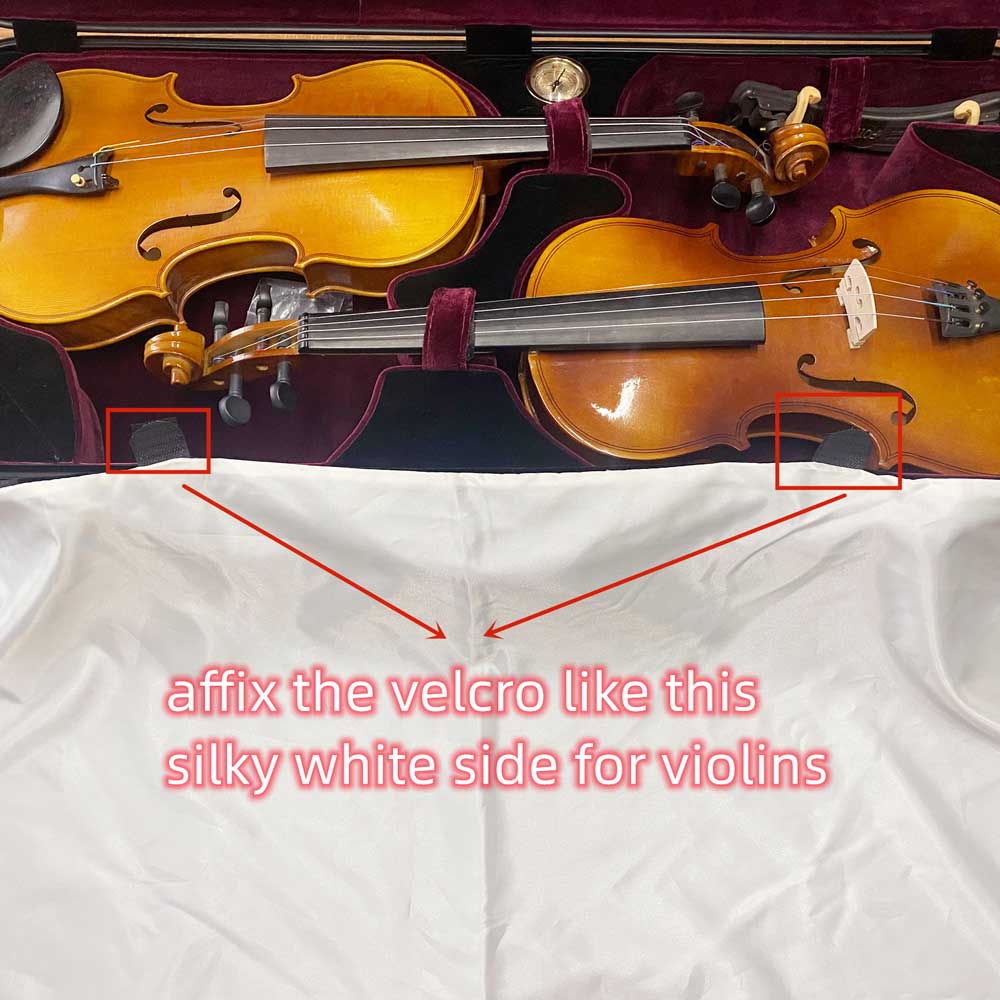 Double Case – for a 4/4 Violin and a Viola (15.5″ – 16.5″)
PRODUCT OVERVIEW
The white side should be toward the instruments to avoid faded color issues. Affix the velcros like the photo shows.
INSIDE MEASUREMENTS
The violin cradle of the case can fit both traditional violin and modern electric models.
The viola cradle of the case is designed to fit a 16.5" viola. The extra padding strips will help it to be compatible with a 15.5" viola as well.
FEATURES
100% pure fiberglass hardshell case for a violin and a viola.
The violin cradle fits the vintage violin and electric violin.
The viola cradle fits a 16.5" viola and can be revised to fit a 15.5" viola with the help of the extra padding strips.
Super soft fabric with Level 4 Dye Fixation technology guarantee, no color faded issue which may hurt the vulnerable painting of the instruments.
Heavy-duty alloy locks are extremely easy to use. 2 alloy locks. One of them is the TSA style. 2 alloy spring latches on the front and 2 on the top sides.
The backpackable design makes a musician's journey much easier.