specifications
Brand :

Crossrock

Material:

Fiberglass

Fitted Instrument:

Alto Saxophone

Package Dimensions:

62x18x27cm; 27x7x11in

Shipping Weight:

2.9kg(6.4lb)

Net Weight:

2kg(4.4lb)

Accessories:

Keys; Backpack straps
Brass & Woodwind Cases
Fiberglass Alto-sax Case, Compact Style
$239.00
Fiberglass Alto Saxophone Case
If the product is out of stock, please leave your email here. We will reach out and update the expected delivery date. For the international orders outside of the US, please contact us to get further help.
Free shipping around US continental for orders above $49
1 - 2 business days handling time before shipping
30 days money-back guarantee and limited lifetime warranty
A Closer Look at the Fiberglass Alto-sax Case, Compact Style
WATCH THE VIDEO
Compact design. Small, light, and strong. Let's check the shining blue fiberglass Alto-saxophone case now.
Fiberglass Alto-sax Case, Compact Style
DETAILS
Lining – Fiberglass Sax Case

The super-soft dark grey lining feels like baby skin offering tender touching to the saxophone.

Backpackable – Fiberglass Sax Case

Customized heavy-duty hardware guarantees the safety of the case during a musician's trip. The backpackable design offers more convenience during the music trip.

Finishing – Fiberglass Sax Case

The auto-level painting technology makes the case glossy and shining.

Compact Design – Sax Case

If you just want a case to carry your saxophone and do not have tons of accessories to come with it, the compact design case must be the best choice.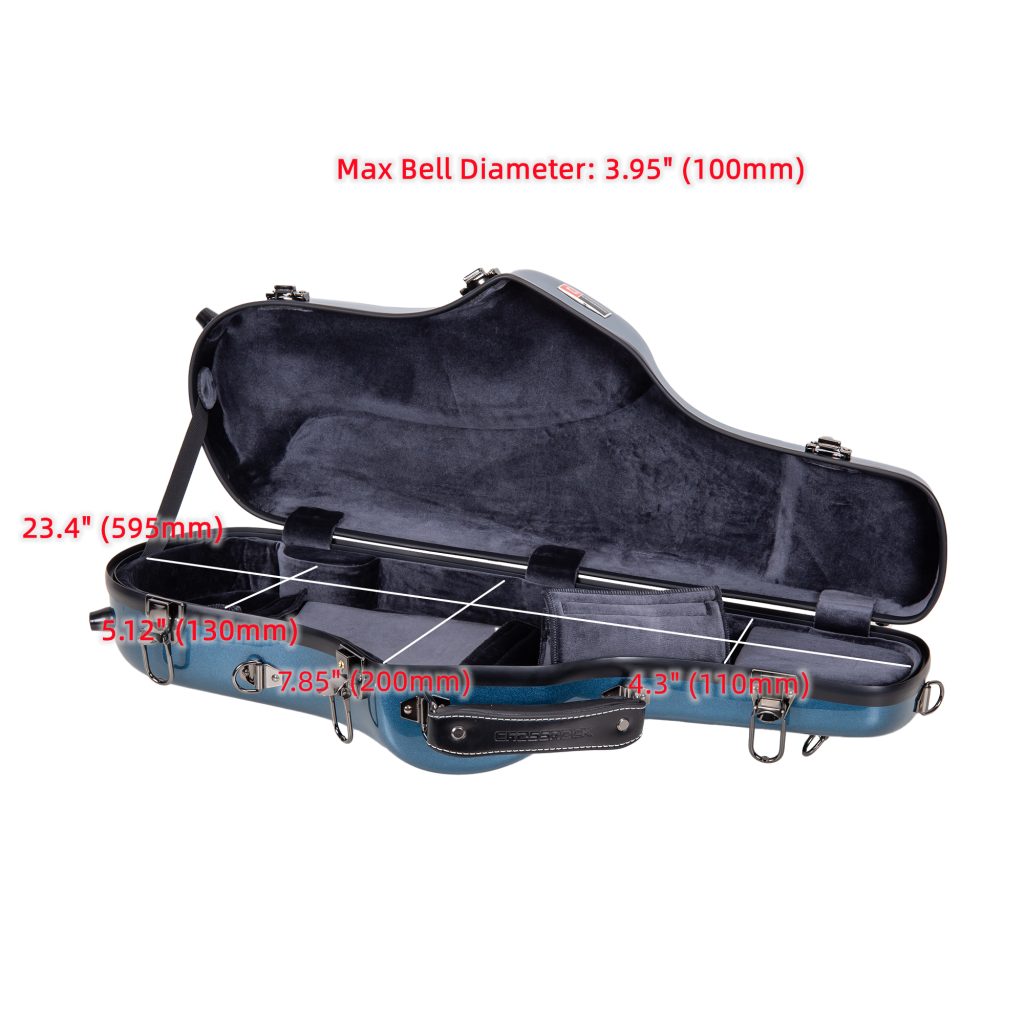 Fiberglass Alto-sax Case, Compact Style
PRODUCT OVERVIEW
The fitted saxophone models list:
Selmer: Super Action 80 II, Super Action 80 III, Reference 36, Reference 54, SeleS AXOS, Supreme
Yamaha: Custom Z, Custom EX, YAS-62, YAS-480, YAS-26, YAS-580AL, YAS-300AD, YAS-200AD
Yanagisawa: A-WO2, A-WO20, A-WO37, A-WO10, A-WO1
P. Mauriat: Master 97, System 76, PSMA-185, PMXA-67R, Le Bravo 200, PMSA-500BX, PMSA-86, Grand Dreams 285, PMSA-180
Lupifaro: Platinum, Gold, Silver
VINTAGE Selmer: Mark VI, Mark VII, Super Action 80 I, Super Action, Balanced Action "SBA", Super Sax, Radio Improved, "Cigar Cutter"
Conn: 6M "Naked Lady/Lady Face", New Wonder II "Chu Berry", New Wonder I, Pan American, "Shooting Stars"
King: Super 20, Zephyr, Cleveland
Buescher: True Tone, Aristocrat "Top Hat and Cane", "Big B", Super 400
The Alto sax case will fit virtually any saxophone, although older instruments with bell keys on the left or split bell keys will be a tight fit.
INSIDE MEASUREMENTS
Overall Length: 595 mm (23.4 in)
Width for Bell: 200 mm (7.85 in)
Width for U Bow: 130mm (5.12")
Width for Neck: 110mm (4.3")
Net Weight: 2kg (4.4lb)
FEATURES
Compact style backpackable fiberglass case for alto-saxophone.
Sturdy, strong, and lightweight.
Auto-level painting technology was applied to the finishing.
Customized heavy-duty hardware.
Thick padded Velcro pouch for small extras.