specifications
Brand :

Crossrock

Fitted Instrument:

61 keys keyboard

Package Dimensions:

120x53x20cm; 48x21x8in

Shipping Weight:

13.12kg(29lb)

Accessories:

Removable foam padding blocksx4; Sound absorbing foam x 2
Keyboard Cases
CRA961 Injection Molded Heavy-duty Keyboard Case 61 Keys
$409.00
61 Notes Keyboard Case, PP Injection
If the product is out of stock, please leave your email here. We will reach out and update the expected delivery date. For the international orders outside of the US, please contact us to get further help.
Free shipping around US continental for orders above $49
1 - 2 business days handling time before shipping
30 days money-back guarantee and limited lifetime warranty
CRA961 Injection Molded Heavy-duty Keyboard Case 61 Keys
DETAILS
Injection Molded PP Material

A heavy-duty flight case for 61 notes keyboard and workstation. The strength of PP material is superior to other plastics and it makes the case outstanding in strength and durability.

Injection-Integrated Latches And Hinges

The injection-integrated latches and hinges secure the case and offer an extraordinary performance of sealing and waterproofing. 6 latches around the case in total.

Lock Extension Slots

There are 4 extension slots near the latches for the extra lock needs. Musicians can use the additional password/TSA lock to secure the instrument when traveling around.

Extent Space For Workstation

In case some keyboards may come with a higher workstation/control station, we designed the removable foam block to offer the extent of space for musicians.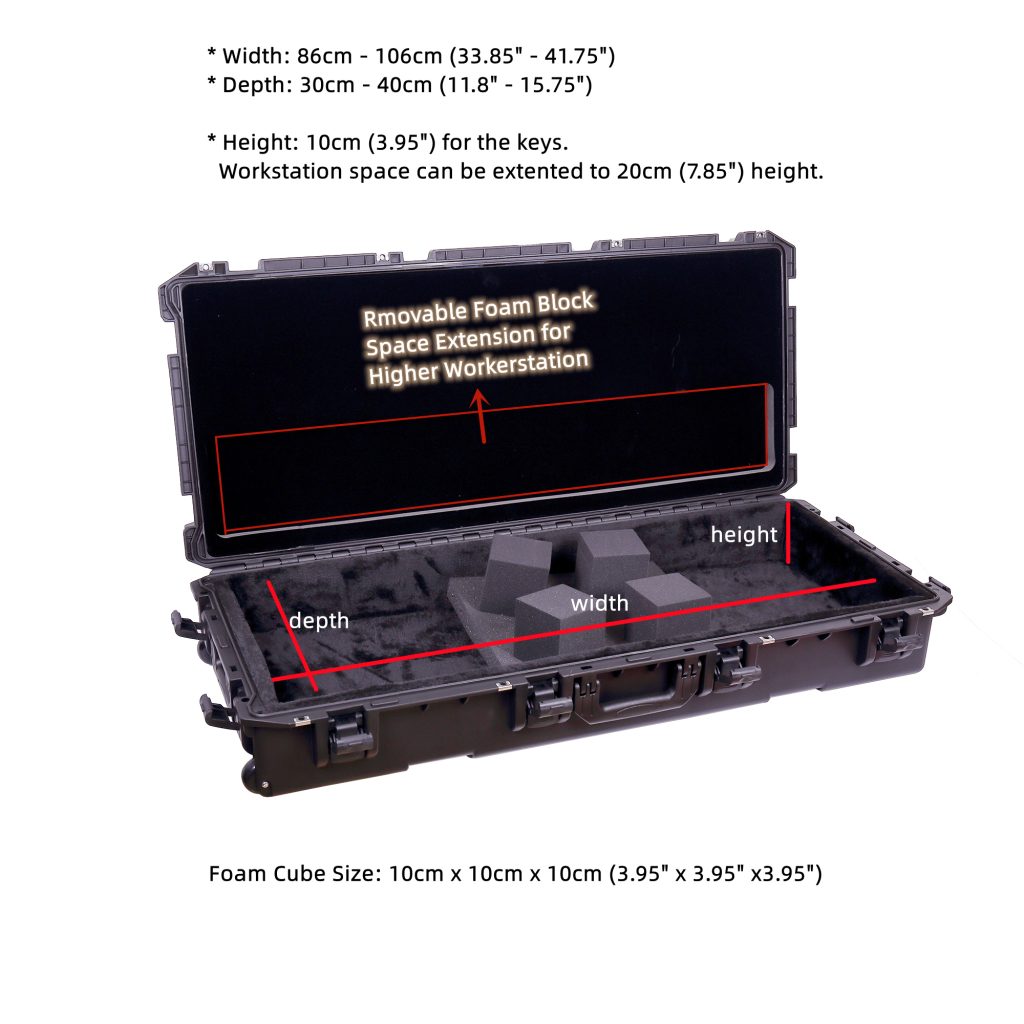 CRA961 Injection Molded Heavy-duty Keyboard Case 61 Keys
PRODUCT OVERVIEW
* Fit 61 notes keyboards and workstations. * Some larger Yamaha models may not be fitted including: Yamaha Montage, PSR 970, PSR SX700, PSR SX900, PSR A3000. * All the Yamaha YC series 61 keys models, PSR-E series, and PSR 670 can be fitted. * Fit almost all Roland 61-note keyboards including Fantom-06. * Fit almost all Korg 61-note keyboards including the Krome EX series, Kronos series, and PA series (professional arranger).
INSIDE MEASUREMENTS
* Width: 86cm - 106cm (33.85" - 41.75")
* Depth: 30cm - 40cm (11.8" - 15.75")
* Height: 10cm (3.95") for the keys.
Workstation space can be extented to 20cm (7.85") height.
* Foam Cube Size: 10cm x 10cm x 10cm (3.95" x 3.95" x3.95")