specifications
Brand :

Crossrock

Material:

Fiberglass

Fitted Instrument:

Precision Bass

Package Dimensions:

131x44x16cm; 52x17.5x6.5in

Shipping Weight:

6kg(13.5lb)

Net Weight:

4kg(8.8lb)

Accessories:

Keys; backpack; Removable padding paddingx2
Electric Bass
Electric Bass Guitar Case – Fender Precision Bass – Fiberglass
$409.00
Fiberglass Electric Bass Case
If the product is out of stock, please leave your email here. We will reach out and update the expected delivery date. For the international orders outside of the US, please contact us to get further help.
Free shipping around US continental for orders above $49
1 - 2 business days handling time before shipping
30 days money-back guarantee and limited lifetime warranty
A Closer Look at the Electric Bass Guitar Case – Fender Precision Bass – Fiberglass
WATCH THE VIDEO
A Legend of Bass Case. Strong! Indestructible! Protective! Super light! What's more? Find the answer in the video.
Electric Bass Guitar Case – Fender Precision Bass – Fiberglass
DETAILS
Reinforce The Shell – Fiberglass

The reinforce strips are always applied on the top shell which needs more strength to absorb the largest pressure and impact.

Inside – Fiberglass Bass Case

The suspension designed inside is covered by thick foam padding and soft blue lining.

Inside 2 – Fiberglass Bass Case

The accessory compartment comes with a lid and build-in neck support offering a nice balance to your bass. Attention: the pocket is a bit shallow due to the case's space limitation.

Handle & Hardware – Fiberglass Bass Case

Crossrock branded handle. The handle can be replaced if necessary. Anti-rust hardware.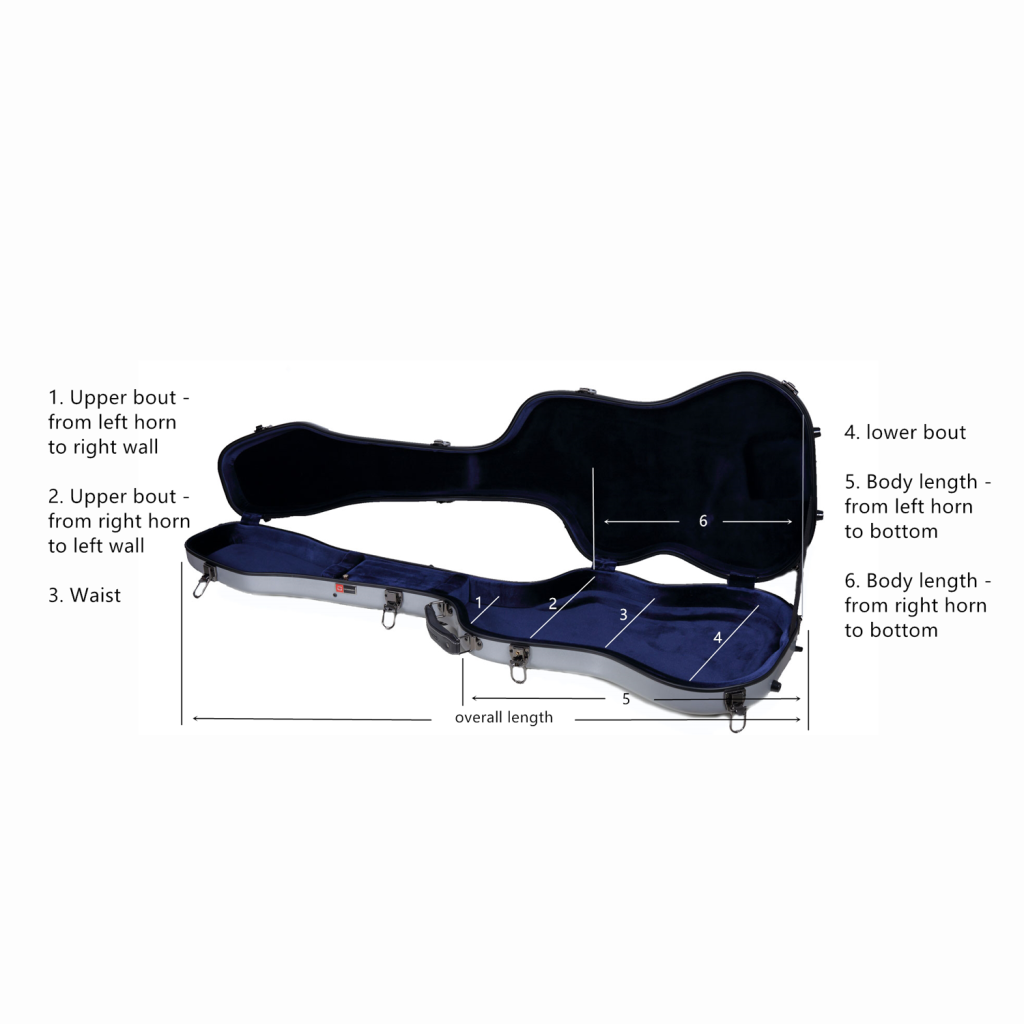 Electric Bass Guitar Case – Fender Precision Bass – Fiberglass
PRODUCT OVERVIEW
Crossrock Bass Case - Deluxe Fiberglass Lightweight fiberglass case designed for Precision style bass.
INSIDE MEASUREMENTS
Inside Dimensions
Overall Length: 121 cm (47.63 in)
Body Length(left horn): 51 cm (20.07 in)
Body Length(right horn): 39 cm (15.35 in)
Width of head: 19.5 cm (7.67 in)
Upper Bout(from left horn to the right wall): 18 cm (7.08 in)
Upper Bout(from right horn to the left wall): 28 cm (11.02 in)
Waist: 25 cm (9.84 in)
Lower Bout: 33.5 cm (13.18 in)
Body Depth: 7.8 cm (3.07 in)
FEATURES
Extremely strong fiberglass bass case fits Fender Precision BASS.
Super thick high density padding with silk-like blue lining.
11lb lightweight bass case with heavy duty latches, lock, and hardware.
Genuine leather handle.
Deluxe padded backpack straps.