specifications
Brand :

Crossrock

Material:

100% Pure Carbon Fiber

Fitted Instrument:

5 Strings Resonator Banjo

Package Dimensions:

111x49x21cm; 44x20x9in

Shipping Weight:

4.7kg(10.4lb)

Net Weight:

4.2kg(9.3lb)

Accessories:

Keys; backpack; padding strip; square padding; Padded case cover
Banjo Cases
DEAL – Carbon Fiber Banjo Case 5 Strings Resonator, Deep and Fat Universal Style
$989.00
Carbon Fiber Banjo Case 5 Strings Resonator
10 in stock
If the product is out of stock, please leave your email here. We will reach out and update the expected delivery date. For the international orders outside of the US, please contact us to get further help.
Free shipping around US continental for orders above $49
1 - 2 business days handling time before shipping
30 days money-back guarantee and limited lifetime warranty
A Closer Look at the DEAL – Carbon Fiber Banjo Case 5 Strings Resonator, Deep and Fat Universal Style
WATCH THE VIDEO
Light like air, strong like steel - the Crossrock Air Carbon series.
DEAL – Carbon Fiber Banjo Case 5 Strings Resonator, Deep and Fat Universal Style
DETAILS
The Super Light Carbon Banjo Case

6.5lb lightweight carbon case for banjo with a resonator. Designed for the deep and large banjo especially. For Gibson banjos, extra removable paddings are necessary.

100% Pure Carbon Fiber

The case was made of 100% pure carbon fiber and coated with matt painting. Impact tests include hammer smash, jumping, and dropping from stairs.

Thick Padded Case Cover

The Air Carbon series cases all come with a thick padded case cover to protect the case from scratches. And the outside pocket on the cover can offer more storage for the extra accessories.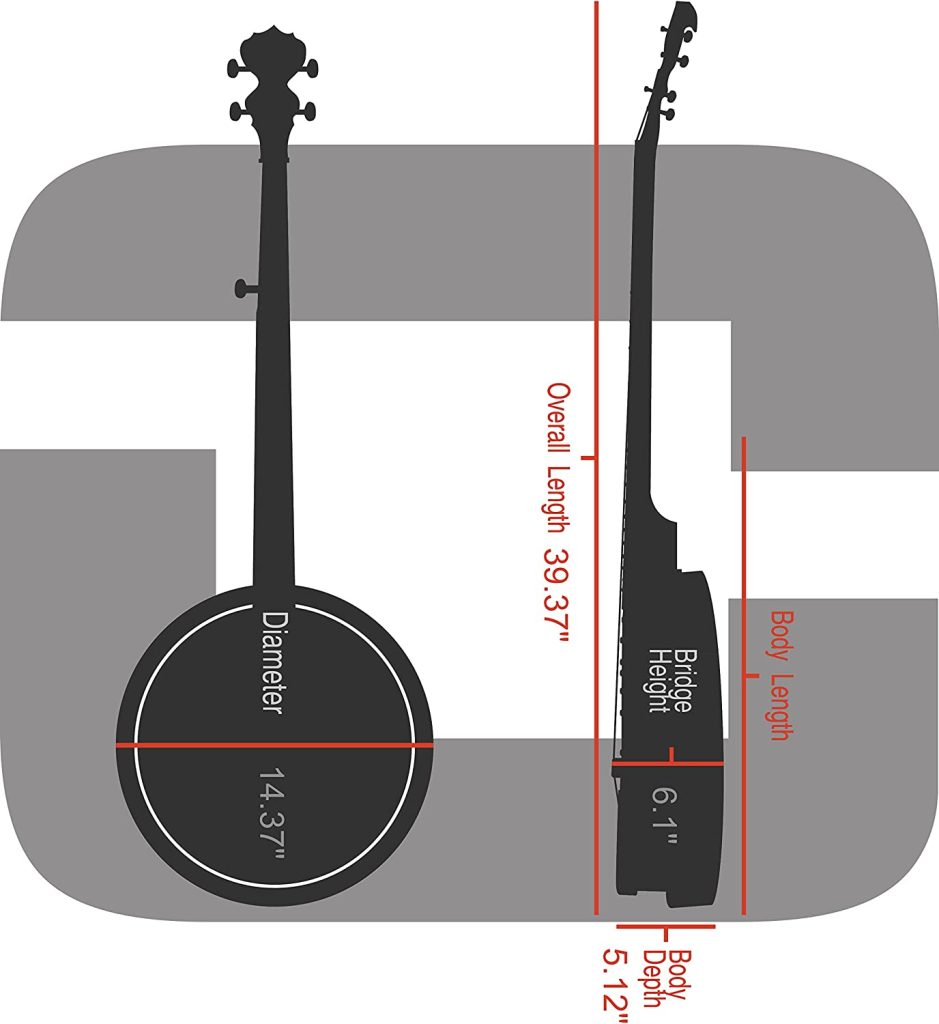 DEAL – Carbon Fiber Banjo Case 5 Strings Resonator, Deep and Fat Universal Style
PRODUCT OVERVIEW
Air Carbon Series Carbon Fiber Banjo Case 1. Fat and deep design, the universal big case fits almost all 5-string resonator banjos on the market, especially for the big body banjo like Deering Goodtime Acoustic/Electric 5 strings with a resonator. 2. For the other banjos which have a similar size to Gibson banjos, especially the Mastertone style, the extra paddings (included in the case) are necessary.
INSIDE MEASUREMENTS
Inside Dimensions
Overall length: 100 cm (39.375 in)
Body diameter: 36.5 cm (14.375 in)
Body depth (at rim): 13 cm (5.12 in)
Max depth (at bridge): 15.5 cm (6.1 in)
The carbon banjo case is designed for the purpose of a universal case for almost all 5 strings banjos with a resonator, especially for the deep and large body style. It can be customized to fit a Mastertone banjo with the removable padding strips which are included inside the case.
FEATURES
100% pure carbon fiber material.
Silk-like velvet lining and thick foam padding.
Suspension inside design.
Heavy-duty hardware and TSA lock.
3 thick removable padding offers various fittings for different sizes of resonator banjos.
Durable backpack straps and thick padded case cover.